Earth Month is great opportunity for us all to reflect, reassess our habits, and set attainable goals to become more environmentally conscious. If living more sustainably is a goal of yours, but you're a little intimidated by the prospect of "going green," you're not the only one who has felt that way. Instead of letting your nerves get the best of you, take some guidance from the one and only Miranda Kerr.
So far, she has shared her insights on being environmentally conscious and running her Certified Organic beauty brand, Kora Organics. If you want to live more sustainably, there's no need to overhaul your entire lifestyle in full swoop. Instead, incorporate Miranda's simple, budget-friendly tips into your routine.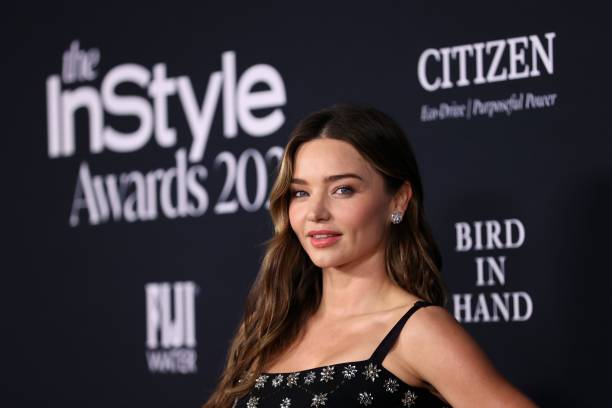 What are some small steps that people can take to just get started living more sustainably without feeling overwhelmed? 
MK: I think there are so many things that we can all do and the small things add up to make a big difference. Just being conscious of the amount of water that you use when you take a shower, making sure you turn the tap off when you brush your teeth, and turning off the lights when you leave a room go a long way.
We have glass containers that we reuse for our food. We make efforts to shop locally. Make sure you bring your own bag to the supermarket instead of getting the plastic bag from there. All of those "little things" honestly do make a big difference. We can all make a big difference by doing these small things.
FineDine 24-Piece Superior Glass Food Storage Containers Set
This set includes 24 glass containers in various sizes. They're BPA-free with 100% leak-proof lids. These freezer-to-oven-safe food containers come in blue, red, pink, and grey. The containers have 26,800+ 5-star Amazon reviews.
NZ Home Insulated Shopping Bags for Groceries or Food Delivery
You can use these insulated shopping bags to insulate hot or cold food. They're reusable, durable, practical, and they come in four sizes, and they have 8,500+ 5-star Amazon reviews.
The Sustainable(Ish) Living Guide: Everything You Need To Know To Make Small Changes That Make a Big Difference by Jen Gale
Miranda shared, "There are some good books out there. I recommend the Sustainable(ish) Living Guide. It has some simple changes you can make in your life."
101 Ways to Go Zero Waste by Kathryn Kellogg
"There's another great book called 101 Ways to Go Zero Waste, that has different things you can do like having a water filter at home and refilling your own water bottle instead of buying single-use plastic water bottles," Miranda said.
 Most of the tips that you gave are not only a small effort to make, but you're also actually saving money by doing these things. So it's a win-win for you in many facets. There really is a bigger picture to keep in mind when you take a look at some of your everyday habits and make some small adjustments that can go a long way.
MK: Yes. You can make your own coffee instead of buying individual cups of coffee every day? Instead of paper towels, you can use towels or reuse old clothes as rags. If you're someone who likes drinking out of a straw, try a metal straw or something reusable instead of disposable, plastic straws. You can repurpose glass jars too.
Vehhe Metal Straws Stainless Steel Drinking Straws & Cleaning Brush
This set of metal straws includes two straight straws, two bent straws, a cleaning brush, and a carrying case. These straws have 38,700+ 5-star Amazon reviews.
Hydro Flask Wide Mouth Flex Cap Stainless Steel Reusable Water Bottle – Vacuum Insulated
 Is there a reusable water bottle that you recommend? There are so many to choose from at a wide range of price points and it can get overwhelming to just pick one. 
MK: Personally, I like the Hydro Flask. It's something that I use all the time and I get the 32 ounce one. I think it also keeps your drinks at a cool temperature.
 Can you use that for hot beverages too, like a coffee or tea, or is it just for cold drinks?
MK: Yeah, you can use it for hot beverages as well.
These reusable bottles come in four sizes and 16 colors. They have 18,900+ 5-star Amazon reviews.
Want the latest and greatest deals and celebrity must-haves delivered straight to your inbox? Sign up for the Shop With E! newsletter!